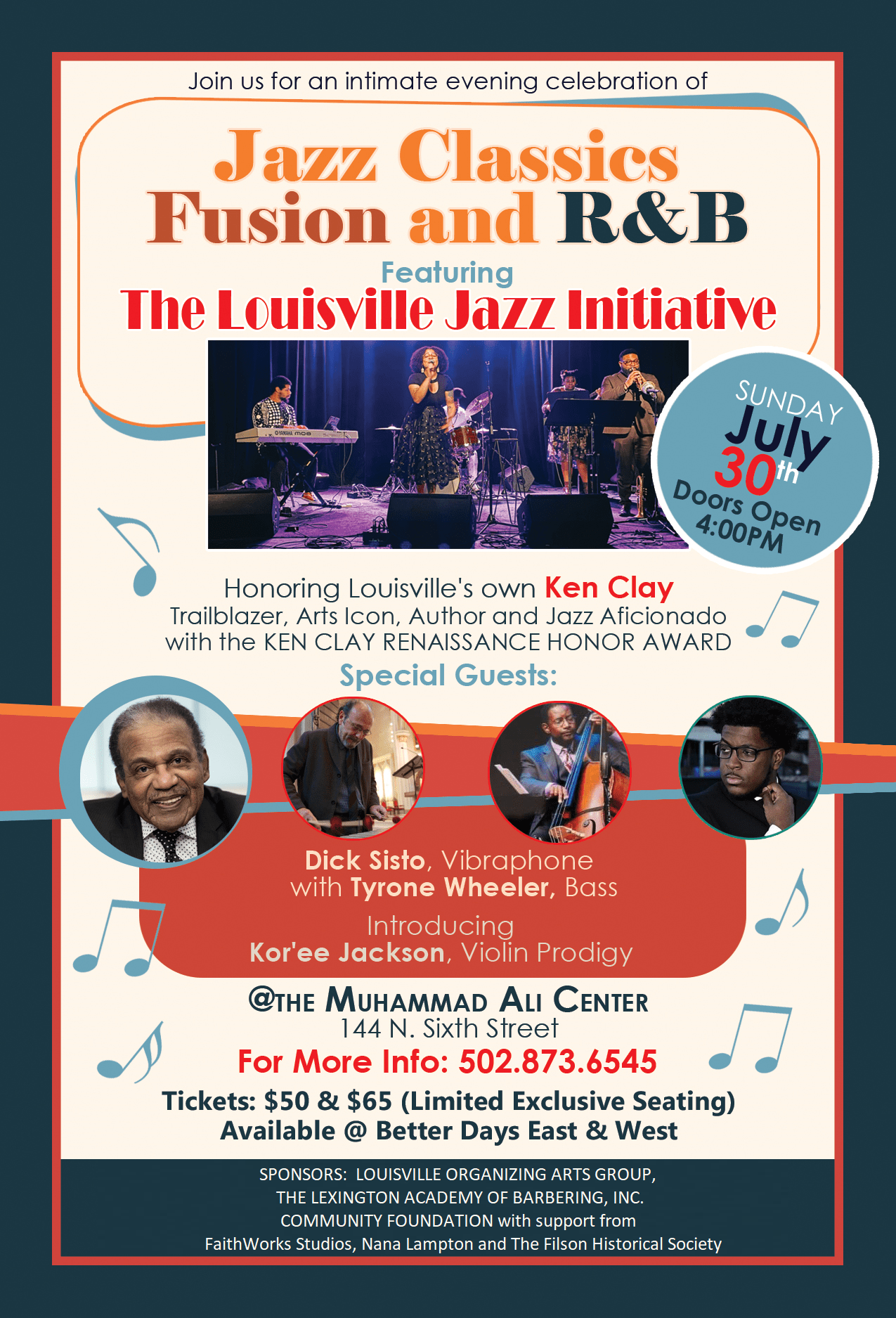 JAZZ CLASSICS, FUSION AND R&B PERFORMERS, LOUISVILLE LEADERS, AND
PRESENTERS SET TO HONOR KEN CLAY AT THE MUHAMMAD ALI CENTER
LOUISVILLE, KY—Featured performing artists with special guests are scheduled to light up the Muhammad Ali Center to publicly honor Louisville's own, Ken Clay, former VP of Programming at the Kentucky Center for the Arts (KCA); Derby City trailblazer; arts icon and jazz aficionado. Invited musical guests will feature: the ever-popular Louisville Jazz Initiative; and acclaimed vibraphonist Dick Sisto with classical and funky bassist Tyrone Wheeler. Violin prodigy and music educator, Kor'ee Jackson will also pay tribute to Clay in a highly anticipated, community-inspired public event.
HERE'S WHAT YOU NEED TO KNOW:
WHAT: JAZZ CLASSICS, FUSION AND R&B
WHEN: Sunday, July 30th
TIME: Doors Open: 4:00 p.m.
Showtime: 5:00 p.m.
WHERE: Muhammad Ali Center-144 N. Sixth Street
TICKETS: $50 (General Admission) and $65 (Limited & Exclusive Seating)
AVAILABLE @ BETTER DAYS EAST (921 BARRET AVENUE) & BETTER DAYS WEST
(2600 W. BROADWAY (LYLES PLAZA)