Louisville native and first call bassist Lee Puckett is known for his great feel, stylistic versatility, and melodic improvisations on both electric and acoustic basses. Lee has performed with Craig Wagner, Carly Johnson, The Buzzard, Ron Hayden Group, Murali Coryell, Tiki Todd & the Limbo Maniacs, Clay Moore Trio, The Derby City Dandies, the HPK Trio, and many more. His group features pianist Todd Hildreth (The Java Men, King Kong, Squeezebot), Guitarist Clay Moore (Joey DeFrancesco, Randy Brecker, Peter Erskine, Dave Liebman, Tony Monaco, and Luciano Pavarotti), and drummer Ted Richardson (The Tren-dells, Ron Hayden Group, The Hamilton Brothers, Boogie Juice, 502 Keys, Jerry Tolson Group). In addition to assembling a stellar cast of musicians, Lee has been particularly selective with the material, drawing from Bebop, Tin Pan Alley, Blue Note era, and Fusion Jazz. In addition to this eclectic mix of stylized Jazz classics, the Lee Puckett Group will be performing several tracks from Lee's 2021 debut album "Last Horizon" which received glowing reviews from music critics including BASSMAGAZINE.COM who described the album as "a veritable Kentucky Burgoo of modern rhythmic structures, angular harmony, eastern-influenced melodies, full-out funk, acoustic ambience, and swinging Bebop."
---
A native of Louisville, Kentucky, Lee was drawn to music and the arts from an early age. Originally an aspiring cartoonist, Lee studied drawing at Manual High School's after school arts program and majored in art at Louisville Male High School. Music entered the picture at age 9 with violin lessons and later clarinet. During this period Lee fell in love with Swing music after hearing clarinet virtuoso Benny Goodman's last live recording, a tape he subsequently wore out playing "air clarinet" to. After entering high school the music of Jimi Hendrix and The Cure inspired Lee to take up guitar with a "playlist" that evolved to include Chuck Berry, Prince,The Doors, King Crimson, Led Zeppelin, and Sound Garden. After hearing Jaco Pastorius in college Lee quickly converted from guitar to bass and attended Musicians Institute where he studied with bass department head Alexis Sklarevski, guitarists Scott Henderson, Allen Hinds, Jeff Richman, and Sid Jacobs and took lessons with bass legends Gary Willis and Jeff Berlin. While studying at MI proved invaluable, a 2-year stint playing in Jazz bands and show productions aboard cruise ships was the "real school" for Lee as it placed considerable demands on sight-reading, improvisation and stylistic versatility. Since his return to Louisville, Lee has maintained a busy schedule as a performer and educator. In 2021 he released the 10-track album "Last Horizon" that features stylistically diverse compositions and melodic fretless bass solos. Lee wrote, arranged, produced, and mixed the album which includes contributions from Nashville guitar legend Brent Mason, Brandon Coleman, Mark Hamilton, Michael Hyman, Zack Kennedy, Paul Culligan, Kendall Carter, and Tommy Poole among others.
---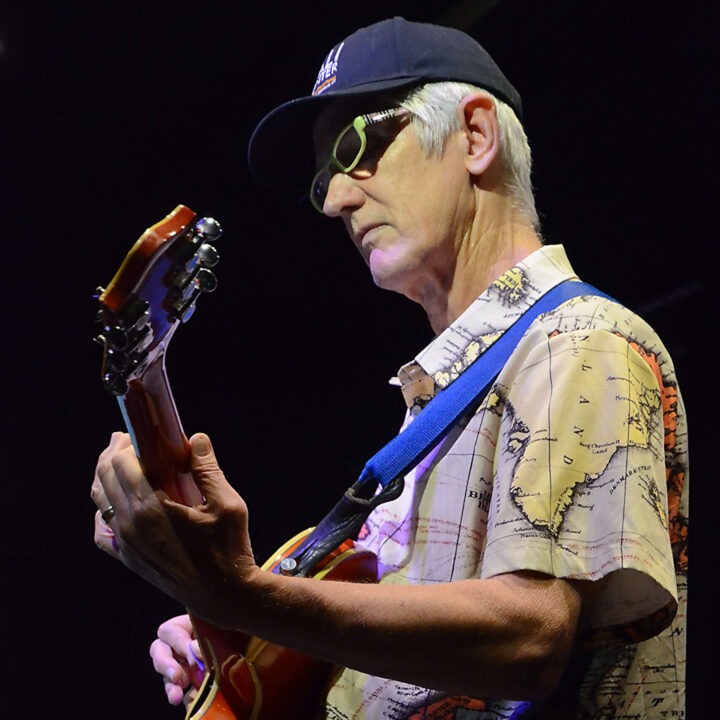 Guitarist Clay Moore began playing the instrument at age 16, inspired by popular blues and rock bands from the 60's and early 70's. Soon afterwards he discovered fusion guitarists Larry Coryell and John McLaughlin, and then Wes Montgomery, Ge orge Benson, and many others.
Largely self-taught, Clay played in a variety of commercial music settings honing his skills. He released his first CD Meeting Standards in 1998, followed by To a Tee in 2001 and ¡Dámelo! In 2004.
Clay has performed live with Joey DeFrancesco, Randy Brecker, Peter Erskine, Dave Liebman, Tony Monaco, and Luciano Pavarotti, to name a few.
---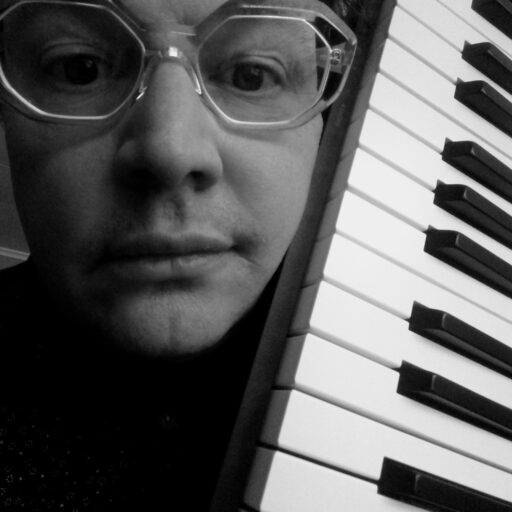 Todd grew up on the rock and roll and pop music of this time, but fell in love with Jazz while at Bellarmine University. He graduated in 1989 and quickly became a sought after keyboardist in both jazz and commercial fields.
In addition to being a first call sideman, he is leader or co-leader of several creative ensembles, including the Todd Hildreth trio, Squeeze-bot, and the Java Man. He currently teaches at Bellarmine University and was a long time faculty member at the Jamey Aebersold Summer Jazz workshops.
---
A native of Columbus, Ohio, Ted has maintained a busy schedule as a first call drummer for music of all styles. Ted has been a member of the Ron Hayden Group, Jerry Tolson Group, The Tren-dells, Boogie Juice, and the HPK Trio, and has logged countless recording dates and live performances.  His style combines virtuosity with a funky feel at all times and his reputation as a solid and creative collaborator has made him a staple in the Louisville music scene.